En unas horas el line-up del Festival Corona Capital será dado a conocer por distintos medios. A partir de las 9h y terminando a las 18h45.
Es casi un hecho que se presentarán James y Pixies. Solo falta confirmación oficial el día de mañana. Por otro lado, ¿hasta dónde llegan los rumores en este momento? Muchos dicen que Interpol, quizá Metric, y la lista sigue y sigue: Regina Spektor, Gorillaz, Jonsi, Soundgarden, Stone Temple Pilots… Pero estos solo son rumores y habrá que esperar un poco más para ver si es cierto que Ocesa echará la casa por la ventana con este festival.
Aquí les dejo la lista de los medios que darán a conocer la información a lo largo del día. Y si no son muy entusiastas de twitter o no lo pueden checar, iré poniendo en este post las bandas que se vayan anunciando.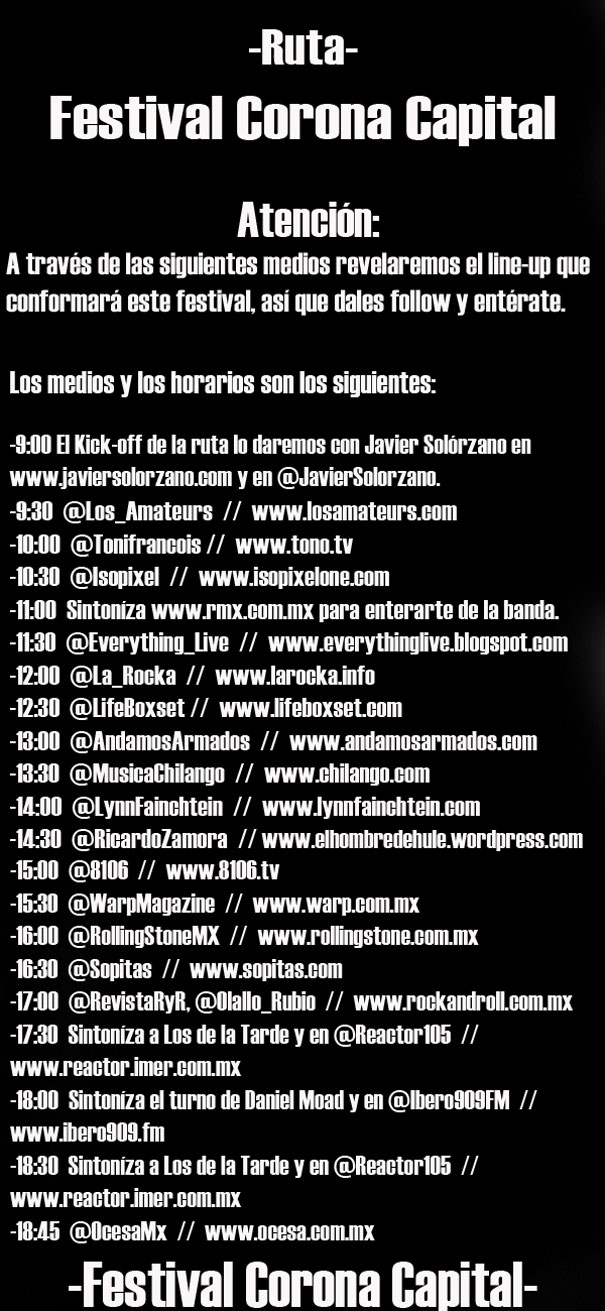 El line-up quedó de la siguiente manera:
Pixies
Interpol
James
Regina Spektor
Metric
White Lies
The Temper Trap
The Soft Pack
Furland
Two Door Cinema Club
Adanowsky
Minus the Bear
Chikita Violenta
She's a Tease
Flyleaf
DaPuntoBeat
Napoleón Solo
Triángulo de Amor Bizarro
Rey Pila
60 Tigres
Aquí les dejo el cartel oficial del evento:
UPDATE: Everything Live informa que la fecha en la cual comenzarán a ser vendidos los boletos es el 29 de junio a las 11h00, y tambíén comentan que Javier Solórzano chismeó que el festival comenzará a las 13h00 y terminará a las 0h30. Espero que el festival lo cierre DaPuntoBeat, Flyleaf o alguna banda similar que no me interese ver.
UPDATE 2: Los Pixies postearon en su página oficial los precios del festival:
$450 (si se compran de Junio 29 a Agosto 31)
$550 (si se compran de Septiembre 1 a Octubre 16)