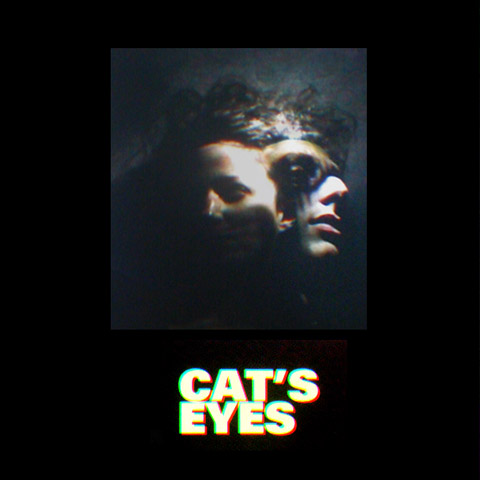 En lo que esperamos el tercer disco de The Horrors, su frontman Faris Bradwan nos tiene bien ocupados con su proyecto alterno, que ha formado al lado de la talentosa soprano y multiintrumentista Rachel Zeffira. Esta fórmula barroca y con una fuerte apuesta por las armonías vocales ha recibido el nombre de Cat's Eyes.
Y lo más sensual de éste proyecto no es que se hayan pasado de excéntricos y hayan dado una de sus primeras presentaciones al lado de la birjensita plis del Vaticano, sino que el sonido de la banda nos muestra la cajita de joyas que resulta Faris musicalmente hablando. Totalmente alejado del rock distorsionado del primer disco de The Horrors y un tanto más lejos del post-rock sabroso y psicodélico del Primary Colours, por momentos el debut de Cat's Eyes es brutalmente orquestal y celestial ("The Best Person I Know" y "I'm not stupid" son bellísimos ejemplos), y cuando llega la hora de aumentar la marcha, uno puede sentir un montón de influencias del pop psicodélico de los sesentas-setentas, onda Jefferson Airplane, siendo "Face In The Crowd", "Over You" y "Cat's Eyes" los mejores exponentes de ésta faceta.
Por diametralmente opuestos que ambos sonidos puedan parecer, son muy bien mezclados dándole una coherencia sorprendente al álbum. En los puntos medios entre un sonido y otro podemos encontrar algunos lindos temas muy arreglados como "The Lull" y "Bandit", cargados de órganos y las imponentes voces de Rachel y Faris, mismas que raramente se oyen al mismo tiempo.
A pesar de que en algún momento del disco se retoma la obscuridad a la que la mente maestra de éste está acostumbrado a trabajar ("Sooner Or Later") sin lograr algún efecto notable, Cat's Eyes nos abre los ojos y nos deja la expectativa con respecto a lo que ésta dupla o al menos Faris tenga que mostrarnos en el futuro.